The Circulation of the Massecute in Vacuum Pans plays a vital role in Steam requirement for Sugar boiling. Basically, the crystallization of sucrose involves complex processes that require the correct design of vacuum pans and precise operation. A particularly important factor is the circulation, which is strongly interrelated with the convective-boiling heat transfer in the calendria and determines, to a large extent, the velocity of crystallization and the uniformity of the conditions inside the vessel.
Pan Circulators, if properly designed, can significantly improve the performance of a pan. The Forced circulation improves heat transfer and so shortens the duration of the batch boiling, thus improving capacity. It has also been seen that Circulators improve the quality of high-grade sugar produced. This is a consequence of the better circulation leading to more homogeneous crystallization conditions within the pan.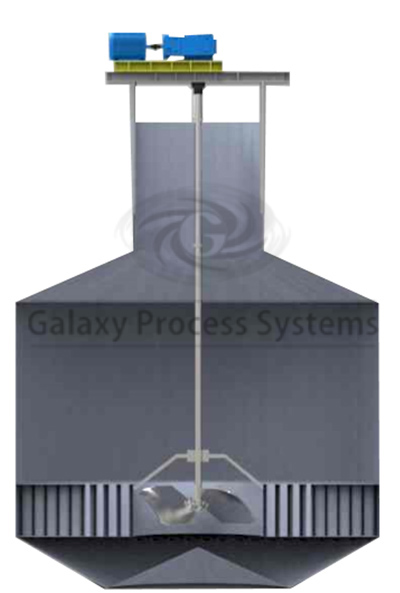 More than 150 Installations Across Globe
Duty Batch / VKT / Continuous PAN
Power 7.5kW to 110 kW
Imp.Dia 800 mm to 3500 mm
Imp. Type Wide Blade, Hydro Foil
ADVANTAGES
Sugar Quality Improvement in terms of Crystals zie, Purity and Color
Capacity Enhancement in terms of High Heat Transfer Rate and Lower Strike Time
Better Heat Economics at Low T
Reduced Water Consumption
Low Pressure Vapor usage
Less Ddeposition on Calandria Tuebes
Lower Molasses Purity
Top Entry Agitators Specically Designed For Horizontal & Vertical Sugar Melters. Takes Care Of Sugar Dissolution Up-to 700 Brix With Live Steam. No Steam Addition Required For Sugar Dissolution In Hot Water Up-to 650 Brix.
Top Entry Agitators With Or Without Steady Bearing For Atomspheric Or Pressurized Vessels & Reactors. Lip Seal Or Gland Packings Along- with Bearing Housing Options Are Available.
Top Entry Agitators For Wide Range Of Applications Ranging From Mild Mixing For Flocuulators To Violent Mixing For Lime Slackers. We Cater To All Mixing Processes In Sugar Industry Where-in Liquid-solid Agitation Is Involved.
Typical Applications
Jucie Sulphiter
Mol Tanks
Sugar Melter
Flocuulators